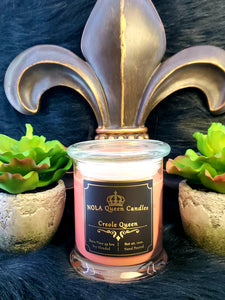 Creole Queen is comprised of a complex woody blend of 5 essential oils Orange, Lavandin, Copaiba Balsam, Lemon, and Grapefruit mixed with a rich custom blends of fragrance oils warm amber, vanilla, dark musk, and sandalwood to well balanced a lively citrus top note.
All candles are handcrafted and poured in small batches in our candle studio, So a personal touch goes into each and every candle that we craft. Our candles are double wicked to provide a perfect melt pool and awesome scent throw. All wicks are lead free and all fragrance oils are phthalate free. When burned properly each candle will burn up to 45 hours.
Hand Made with LOVE in the USA!
Dimensions
Height:4"  -  Base Diameter: 3.5"  -  Top Diameter: 3.125"  -  Jar Capacity: 12.25 oz.