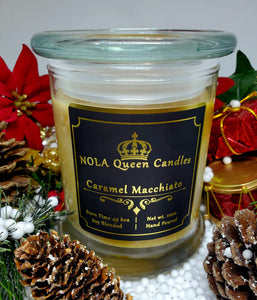 Caramel Macchiato has creamy caramel notes that are blended with coconut milk, coffee beans and cocoa powder on a base of sweet, frothy vanilla to create the irresistible scent of caramel macchiato.
All candles are handcrafted and poured in small batches in our candle studio, So a personal touch goes into each and every candle that we craft. Our candles are double wicked to provide a perfect melt pool and awesome scent throw. All wicks are lead free and all fragrance oils are phthalate free. When burned properly each candle will burn up to 45 hours.
Dimensions
Height:4"  -  Base Diameter: 3.5"  -  Top Diameter: 3.125"  -  Jar Capacity: 12.25 oz.
Hand Made with LOVE in the USA!