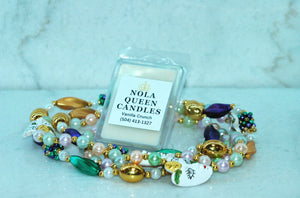 With its intense vanilla aroma, subtle touch of buttercream crunch. Vanilla Crunch is a BEST SELLER.
Soy blended melts are made from soybeans, a natural, renewable source grown in many regions by local farmers. Using candles made from soy supports local agriculture and farmers, allowing them to make money and grow their operations.
All melts are handcrafted and poured in small batches in our candle studio. Handcrafted is defined as skillful creation by hand as opposed to by mass production or use of machinery. So a personal touch goes into each and every melt that we craft. Our melts provide a perfect melt pool and awesome scent throw. 
Height: 1"  -  Length: 3"  -  Width: 2.5"
Hand Made with LOVE in the USA!