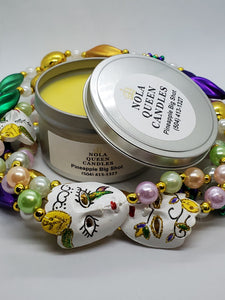 Pineapple big shot is recognized throughout the 'Big Easy' as New Orleans' own. This candle provides an exhilarating aroma of a peaceful paradise with freshly cut pineapple smells that are cool, sweet and sugary. A truly succulent fragrance identical to freshly cut pineapple, that is a must have in your tropical scent line.
Soy blended candles are made from soybeans, a natural, renewable source grown in many regions by local farmers. Using candles made from soy supports local agriculture and farmers, allowing them to make money and grow their operations.
All candles are handcrafted and poured in small batches in our candle studio. Handcrafted is defined as skillful creation by hand as opposed to by mass production or use of machinery. So a personal touch goes into each and every candle that we craft.
Our candles are wicked to provide a perfect melt pool and awesome scent throw. All wicks are lead free and all fragrance oils are phthalate free. When burned properly each candle will burn up to 25 hours.
Height: 3"  -  Diameter: 3"  -  Jar Capacity: 8oz.
Hand Made with LOVE in the USA!